What is it?
You have probably heard the phrase "seller credit" or "seller buydown" mentioned by your realtor or even in home listing details. You may find yourself asking, what exactly is seller credit and how does it work?
Seller credit, aka seller concessions, is a dollar amount that a property seller offers to buyers as credit towards their closing costs, prepaid items, and discount points. It is often used to help reduce the cost for buyers to get into a home. Whether that is out-of-pocket costs or the monthly payment. Therefore, seller credit can reduce the buyer's monthly payment through a permanent interest rate buydown or a temporary buydown (such as a 2-1 Buydown).
We start to see seller credits more frequently when the market shifts from a seller's market to a buyer's market. It is important to know that a healthy real estate market ebbs and flows between these two market cycles. The factors that impact these cycles are housing supply and demand, sales prices, and interest rates. Seller credit is a great tool that helps buyers and sellers meet in the middle and close on the home more quickly. This can also help sellers avoid a drastic price reduction.
How does it work?
The seller credit is reflected on a sales contract as a specified dollar amount or set percentage of the sales price of the home.
There are limits on the amount of credits allowed in a transaction. The limit depends on the buyer's loan program, down payment amount, and occupancy type. Here's a table of some examples.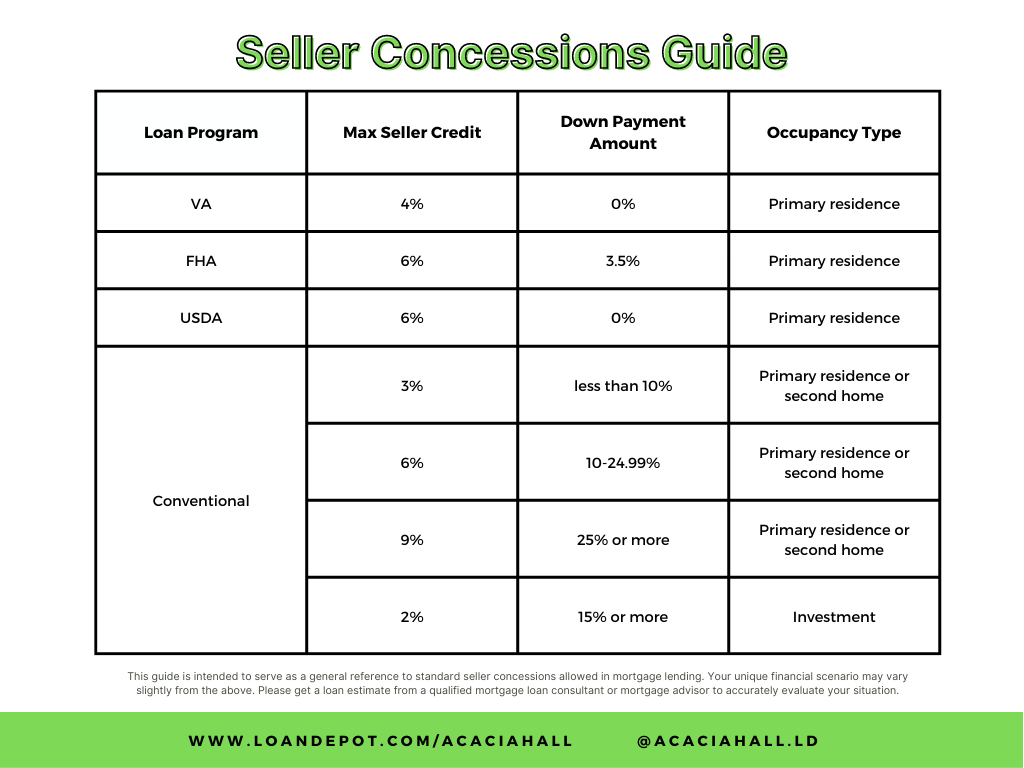 The agreed amount is deducted from the seller's net amount at closing. Those funds are credited toward the buyer's final amount due at closing.
Evidently, any excess that is not used during the loan transaction must be forfeited by the buyer. The sellers are not allowed to give any remaining credit to the buyers as cash. Overall, this is why it is important to get a preapproval and discuss closing costs with your lender before submitting an offer.
Questions? Contact Acacia Hall
Cell: 5803043943