The Real Estate Market History
If you're looking into the Columbia Gorge Real Estate Market from areas like Portland, California, or Seattle, or elsewhere, let me give a quick history lesson. Understanding the unique nature of the Columbia Gorge's market is step one.
Windsurfing is Born
In the mid-1970s, Windsurfing in the Gorge was born, and Hood River, OR was the epicenter. The Columbia Gorge was already a beautiful place. Residents living in the area went about their days blissfully unaware of the greater world. From Mt. Hood to Mt. Adams and from the rivers and the valleys, those living in the surrounding communities in the Gorge were happy (just as they still are today).
Population Growth
It was when Hood River became the epicenter, that tourism unveiled how rich the Columbia Gorge was with recreation, business, balance, and community. From 1969 to 2021, Hood River County's population rose from 13,349 to 24,057 for a net gain of 10,708, or 80.22%
I do not to blame windsurfers for housing prices, just as I don't blame COVID-19 for them either. The Columbia Gorge is simply so rich in life that it was only a matter of time before others wanted to live here too. The demand is here. The rest of the equation came down to mortgage rates and the unveiling of how obviously low the country's housing inventory was. Which leads to the next piece…
Limited Space & Low-Inventory
Although the pace of people moving to Hood River is slowing down since the 70's, there is still a growing trend in population over time. I'd like to introduce to you the second factor making affording a home in the Columbia Gorge difficult: Space & Inventory. Or better put, a graph showing you the new housing starts since 2000. As you can see, our nation as a whole has lost momentum.
Couple the above graph with a terrain that looks a bit like it does below, and now affording a home in The Columbia Gorge is difficult. If you ask me though, it's still worth it. Just look at how beautiful it is.
Financing Your Purchase
I won't spend too much time on this. Chances are, you're already Pre-Approved, or you have come to realize that your cash may not be enough. Let's quickly take a look at the variables at play.
How Much Should I Be Spending?
This number depends on everyone's personal situation. I believe there's a home for everyone in the Columbia Gorge, so don't worry about everyone else. Work with your local mortgage lender to examine all of your expenses and desired monthly payment.
Related: Going Local with Mortgage Lending
You will also want to talk to your Certified Professional Accountant (CPA) and Financial Planner (if you have them). This is because there will be some cross-over education between the different professions. Each of them can help you identify your ideal balance of wealth management. From real estate assets, liquid funds, stocks, and IRAs, how much do you want to invest where?
For those of you who can't afford to have a CPA or financial planner, educate yourself online or with a book. YouTube university (YouTube.com) is a great place to learn about, well, anything.
Loan Types & Placing Offers
Due to the demand for housing in the Columbia Gorge, be sure to talk with your mortgage lender about choosing the right loan program. The 30-year conventional loan is a great choice. It is the least restrictive on the home's condition, but does require a higher Down Payment.
Other loans, such as FHA and VA require the subject house to pass additional quality requirements than a conventional loan would require. When it comes to sellers choosing your offer, if the budget typically includes homes with differed maintenance, consider how your loan type may weaken your offer.
Long Term Buying Approaches
If time and patience is on your side when it comes to eventually buying your dream home, consider a long term buying strategy like fixers or renting your property. These methods may not be perfect for everyone, but it may make the difference getting you into the Columbia Gorge before prices escape you further.
Related: See my step-by-step guide to Buying a Home in the Columbia Gorge.
Buying Fixers
Fixers as you can imagine are great ways to buy cheaper and put your sweat equity in the property. Consider your level of commitment to the project and the time and financial aspects of a remodel. Don't over commit, especially on your first project.
Be sure to get a Home Inspection and get bids from contractors (see: Local Resources) for major items found on your inspection report. Total up the expenses and put a bit of extra on top for some cushion.
The timeline on a plan like this takes roughly 5-10 years. Sometimes more. Given enough time to build your sweat and appreciation equity, by the time you go to sell, you'll have a larger down payment. Use this down payment to upgrade to a home closer where you want to be.
Rental Income
I personally have taken this approach, but it suits my needs better. The idea is, buy rental property in the gorge. Rent out the house or a room, or rent out an ADU (if zoning allows). Rent something out so you can save money. Whatever your strategy is for rental income, you will find a tenant if you price fairly and do not live too far out of town.
The outcome in a plan like this is to offset your monthly expenses. Over 5-10 years, this offset adds to your equity. If the market is also appreciating over this period, you get this equity too.
Keep in touch with your local mortgage lender over this timeline. When the walls of your property are bursting with equity and interest rates a good, it's time to upgrade.
The Upgrade
Now, I know waiting 5-10 years isn't ideal to hear. However, there are clients of mine who have taken the fixer and rental approach. They do what they can to get in the gorge. It may not be where they want to be exactly, but these methods really do work.
When it comes to buying your dream property, I encourage keeping real estate as often as you can. If you can refinance your previous home and keep it rented, consider it. However, if selling your equity packed home gets you to where you want go, then congratulations.
Related: Steps to Selling a Home & Steps to Selling Land in the Columbia Gorge.
Areas of Affordability
Okay, so what if you don't want to buy a fixer and you don't want to rent out your property? If your budget and opportunities are slim, how else are you affording a home in the Columbia Gorge? Well, let's discuss areas of affordability in the Columbia Gorge. Areas outside of Hood River and White Salmon. A place to stretch your dollar and still be close by.
The Town of Husum, WA
Located near Husum Falls, the town of Husum, WA, sits on the north side of the White Salmon River. The town of Husum offers smaller lots that are mostly zoned Rural Center (RC). It takes roughly 10 minutes to drive to the Hood River bridge and to White Salmon.
This general area is popular for Kayakers and rafters. Expect prices in the town of Husum to be around 300-400K. The types of homes here are generally fixers, but move in ready with the necessities.
Homes in the town of Husum do not come up on the market often. Do not be mistaken either, as homes in the surrounding area of Husum and BZ area tend to be 550K-900K (and even more).
Bingen, WA
Located near the base of the Hood River bridge, Bingen, WA, is the younger sibling to White Salmon, WA. Bingen is known for making a bit of noise, as trains pass through every few hours. So, if you like trains, look no further!
All jokes aside, at the cost of listening to train horns regularly, housing in Bingen is cheaper. Prices have been going up lately, as Bingen offers a lot of opportunity. That being, if train whistles are banned and if the Hood River bridge is ever replaced. The new bridge is designed to allow foot traffic into down town Bingen.
Prices in Bingen tend to range in the 375K to 500K range. For being almost in the epicenter of the action, Bingen is a great area for investors on a budget. Bingen sees a handful of homes come up on the market each year.
The Town of Klickitat, WA
Once a thriving mill town, the town of Klickitat, WA, remains a small community and a quiet fishing destination. Sitting alongside the Klickitat River, residents take advantage of free river access and great hunting and fishing.
The town of Klickitat is located 34 minutes to the Hood River bridge and 32 minutes from Goldendale. If you don't mind a bit of driving, home prices here can range from 135K to 400K (and more in some parts). Houses do not come up on the market here often, so be prepared.
The town has a gas station, the famous Huntington's Bar & Grill, and the Canyon Market. The market carries simple ingredients and drinks to save you the trip into town. Otherwise, enjoy slow space of the neighborhood and the sound of the river. Welcome to Klickitat.
The Dalles, OR
Located 24 minutes from the Hood River bridge, The Dalles started it's roots as a major trading ground. Known as the largest town in Wasco County and in the Columbia Gorge, the Dalles is home to a Google Data Center, The Dalles Dam, and several large retail outlets – such as Home Depot and Fred Meyer.
The Dalles, OR has the most number of affordable homes in the Columbia Gorge. From Feb. 2022 to Jan. 2023, an astonishing 173 homes sold under the price of $399,000. From fixers to turn key homes, The Dalles has first time homebuyers covered. The real estate market here is also quite stable given the volume of comparable homes in the area.
This area in the Columbia Gorge tends to have dryer weather. The size of the community offers more opportunities for employment, restaurants, and services. Making The Dalles an easy stepping stone to building equity for your next move.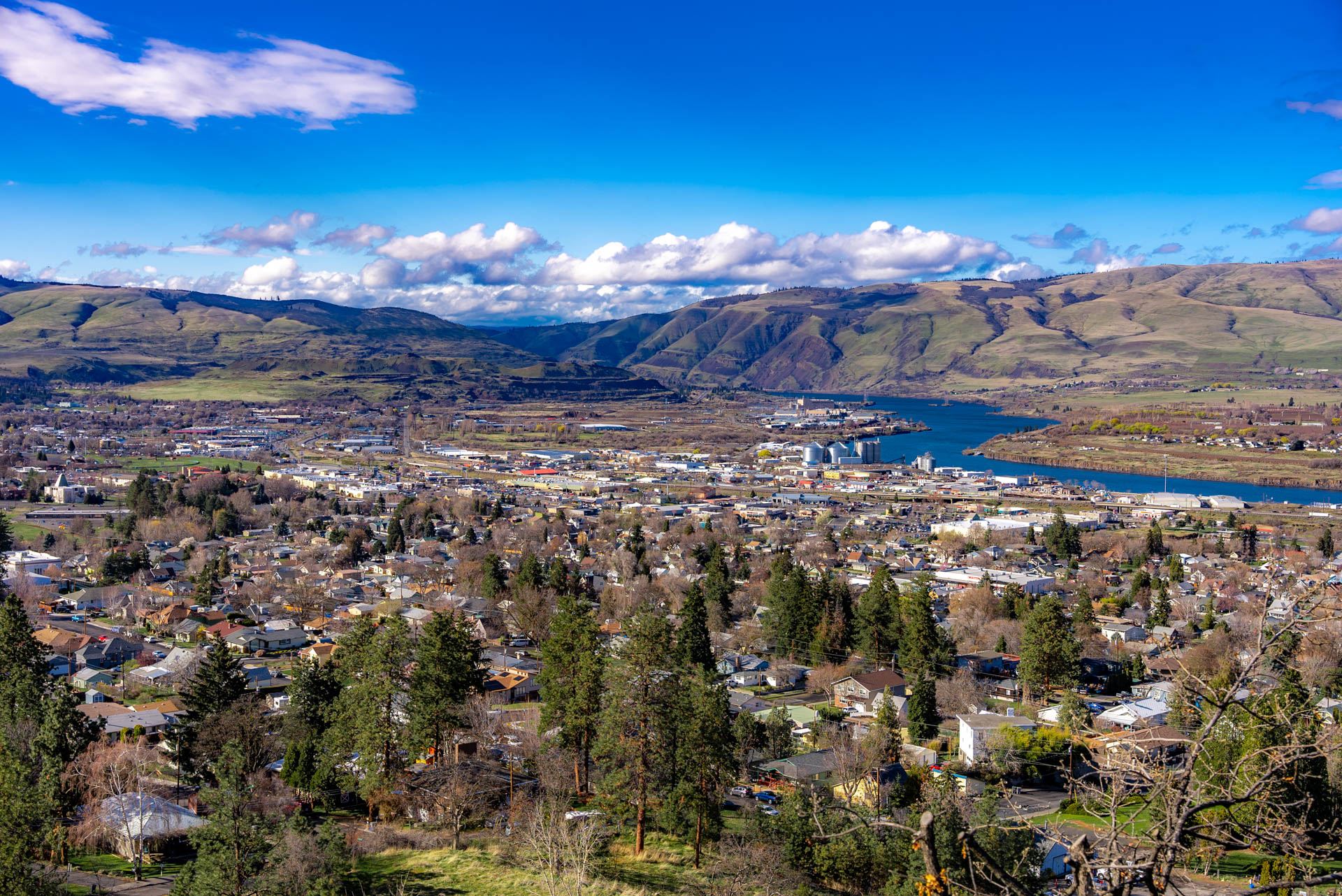 Carson, WA
Last on our list is Carson, WA. Located near the Wind River and Wind Mountain, Carson sits between White Salmon and Stevenson, WA. Known for it's local hot springs, golf course, and resort, Carson is well positioned for real estate growth.
From Feb. 2022 to Jan. 2023, Carson saw average home prices of $450,000. Being further to the west, residents experience a bit more rainfall than White Salmon, but less than Stevenson, WA. Jobs, restaurants, and services are not as abundant in this area. However, if you like a slower pace, Carson holds an old timely feel of the Columbia Gorge. A day when timber production was one of the Gorge's main exports (and in many ways still is today).
Conclusion
Well, there you have it. We discussed a lot in this post regarding affordability in the Columbia Gorge and areas of affordability. You now know why the market is the way that it is. How windsurfing put the Columbia Gorge on the map showing the rest of the world the richness the area has to offer.
We then discussed how you too can find areas of affordability in the Columbia Gorge. It may take a few years if you plan to go the fixer or rental route. It may also take a few years of pocketing equity without doing any of that.
But, perhaps along your journey to find affordability you find your environment in the gorge sooner than expected. Maybe you won't ever need to make the upgrade and you will have found your place of contentment. Either way it goes, I'm here on the journey with you.
If you would like Buyer Representation in the Columbia Gorge, Contact Me.